Guiding Principle
At Fora, we continuously challenge ourselves to think about building better communities – places that deliver quality of life for all. This objective is best achieved through extensive consultation with all stakeholders. We must build our communities with people and not on behalf of them. It is therefore that at Fora, we strive towards a process of inclusion and collaboration. The implication of doing this is simple yet significant and it pays tribute to the greatest asset for building balanced and vibrant communities – social capital. Through this lens, we foster a supportive and resilient approach towards proposing concepts for ever evolving and healthy urban landscapes.
2400 – 2440 Dundas St W
The 2.75-acre site is poised for a transformation into a transit-centric, mixed-use neighborhood, offering a significant opportunity to re-envision the public space and enhance the overall community experience.

Situated north of Bloor Street West, on the eastern side of Dundas Street West, and adjacent to the CPR/CNR Rail Corridor, this site is located in the High Park North (West Bend) neighborhood within the City of Toronto. Currently, the site houses low-density commercial establishments, including a FreshCo on the south side and a Shoppers Drug Mart on the north side, with surface parking in the center. Southeast of the site, there is an interim pick-up and drop-off point for the Bloor GO and UPX station.
17 Elm St
Introducing a 30-storey mixed-use residential development featuring a sculptural design that boldly breaks away from convention. This striking tower, masterfully crafted by the award-winning architecture studio Partisans, boasts a seamless, undulating form that gracefully ascends the building, creating a captivating and dynamic façade.

Located at 15-17 Elm Street, the current site of two low-rise commercial buildings, this property occupies a prime position in downtown Toronto. Its strategic placement offers immediate access to a wealth of vital city institutions, services, amenities, and public spaces, including Toronto Metropolitan University (TMU), City Hall, Sick Kids Hospital, Toronto Coach Terminal, Toronto Eaton Centre, Yonge-Dundas Square, and the vibrant Yonge Street.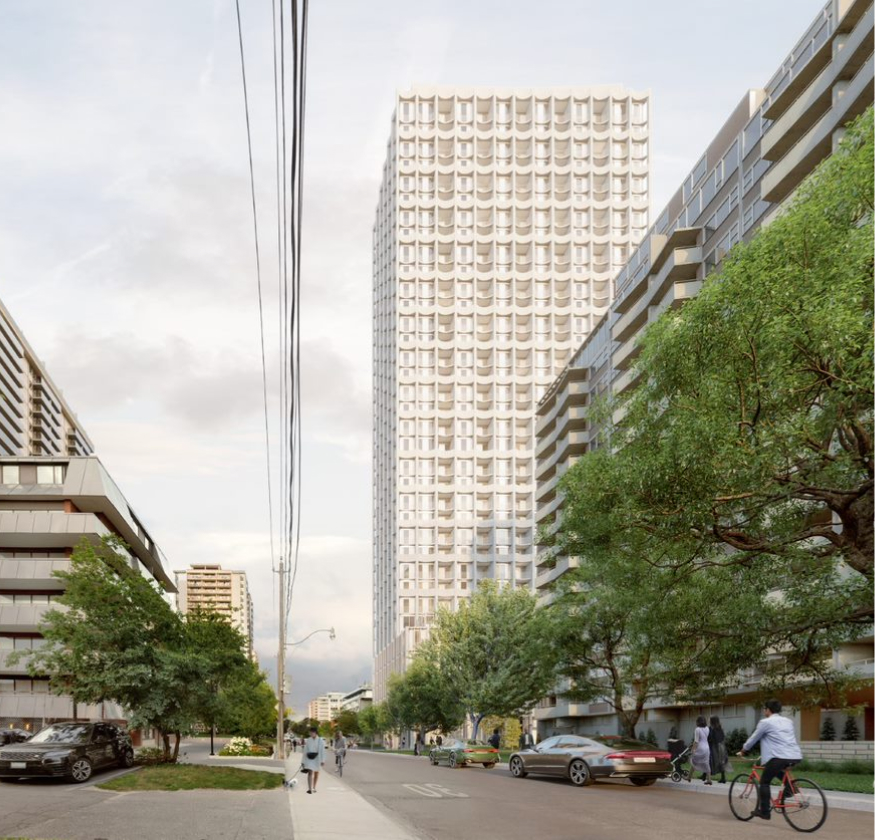 77 Erskine Ave
A 35-storey residential development thoughtfully designed by the acclaimed Toronto-based architecture firm, gh3*. This project aims to be a high-quality and considerate addition to the community, offering a slender tower atop a 5-storey podium with a mid-block connection that enhances pedestrian circulation and access to adjacent open spaces.

Nestled in the vibrant Yonge-Eglinton neighborhood, this development is positioned approximately 500 meters northeast of the bustling Yonge-Eglinton intersection. It boasts excellent connectivity, with multiple major transit routes within walking distance. The Eglinton TTC subway station, just a 6-minute stroll from the site, will also serve as a significant transit hub, facilitating the interchange of the Yonge subway line with the upcoming Eglinton Crosstown LRT Yonge station, slated to open by 2024.
A joint-venture with
2636 – 2654 Eglinton Ave W
A 33-storey mixed-use building, featuring ground-level retail, has been meticulously designed by the acclaimed Toronto-based architecture firm, gh3*. This development aims to be a high-quality addition to the community with a strong focus on transit accessibility.

Set to be a transformative project and a central focal point for the neighborhood, it will occupy a prominent position at the crossroads of Keele Street and Eglinton Avenue West.
Martin Grove & Highway 7
In collaboration with a select group of landowners, Fora is spearheading the Official Plan Amendment of a sprawling 17-acre site in Vaughan, situated at the intersection of Martin Grove and Highway 7. Our vision encompasses a phased high-rise mixed-use master plan, featuring buildings with planned heights ranging from 12 to 28 storeys.

The design, masterminded by the renowned architects at Giannone Petricone Associates Inc., integrates the development seamlessly into the community fabric. This master planned community also includes the creation of new public and private streets, as well as the establishment of public park areas, privately-owned publicly accessible spaces, and a host of community amenities.
8500 Warden – Hilton Markham Suites
The site at 8500 Warden Avenue commands a prominent position within Markham, at the southwest intersection of Warden Avenue and Highway 7. As part of a thoughtful master plan, building 1 is an impressive 37 storey tower with 526 units of carefully curated living.

Its location guarantees unparalleled convenience, with a wide range of amenities in close proximity, including access and in-suite services from the Hilton Markham Suites Hotel. Also nearby are numerous schools, a hub of professional businesses, including the National Head Offices of Yamaha, Under Armour, Jonas, Aviva and Honeywell, banking institutions, grocery stores, a diverse selection of world-class restaurants, bars, and intimate cafes. Additionally, Markham is bordered by the nearby Rouge Park, which stands as the sole National Park in an urban setting, spanning approximately 40 square kilometers. Within the park, you'll discover historical sites, breathtaking viewpoints, Rouge Beach, the Rouge River, diverse wilderness landscapes, and an extensive network of trails.
About
We are a real estate development company focused on high-rise residential communities located in the Greater Toronto Area (GTA). We are a fully integrated organization that operates across all areas of development including land acquisition, zoning, design, sales, construction and customer care. Fora's principals have been responsible for overseeing over 4 million square feet of mixed use residential real estate development at various stages. Currently, the Fora pipeline has over 2,500 homes and over $1.8 billion dollars of development value. Our developments are the result of a dedicated process of collaboration, wherein the agency each stakeholder has is carefully balanced towards exemplar results.
300 Bloor Steet West, Toronto
285,857 sq. ft. | 284 units
Credit: Shiplake&Collecdev
44 Lillian Street, Toronto
409,247 sq. ft. | 560 units | Completed
Credit: Shiplake&Collecdev
20 Monte Kwinter Court, Toronto
116,956 sq. ft. | 171 units | Completed
Credit: Shiplake&Collecdev
8868 Yonge Street, Richmond Hill
318,045 sq. ft. | 370 units
Credit: Shiplake&Collecdev
30 Tippett Road, Toronto
380,125 sq. ft. | 517 units
Credit: Shiplake&Collecdev
500 Wilson Avenue, Toronto
458,396 sq. ft. | 597 units
Credit: Shiplake&Collecdev
2450 Victoria Park Avenue, Toronto
737,258 sq. ft. | 1,025 units
Credit: Shiplake&Collecdev
22 Balliol Street, Toronto
296,090 sq. ft. | 399 units
Credit: Shiplake&Collecdev
40 – 44 Broadway Avenue, Toronto
311,000 sq. ft. | 376 units
Credit: Shiplake&Collecdev
99 Davisville Avenue & 118 Balliol Street, Toronto
460,000 sq. ft. | 521 units | Completed
Credit: Shiplake&Collecdev
77 Dunfield Avenue, Toronto
180,000 sq. ft. | 117 units | Completed
Credit: Shiplake&Collecdev
30 Light Drive, Cambridge
118,000 sq. ft. | 136 units | Completed
Credit: Shiplake&Collecdev
300 Bloor Steet West, Toronto
285,857 sq. ft. | 284 units
Credit: Shiplake&Collecdev
44 Lillian Street, Toronto
409,247 sq. ft. | 560 units | Completed
Credit: Shiplake&Collecdev
20 Monte Kwinter Court, Toronto
116,956 sq. ft. | 171 units | Completed
Credit: Shiplake&Collecdev
8868 Yonge Street, Richmond Hill
318,045 sq. ft. | 370 units
Credit: Shiplake&Collecdev
30 Tippett Road, Toronto
380,125 sq. ft. | 517 units
Credit: Shiplake&Collecdev
500 Wilson Avenue, Toronto
458,396 sq. ft. | 597 units
Credit: Shiplake&Collecdev
2450 Victoria Park Avenue, Toronto
737,258 sq. ft. | 1,025 units
Credit: Shiplake&Collecdev
22 Balliol Street, Toronto
296,090 sq. ft. | 399 units
Credit: Shiplake&Collecdev
40 – 44 Broadway Avenue, Toronto
311,000 sq. ft. | 376 units
Credit: Shiplake&Collecdev
99 Davisville Avenue & 118 Balliol Street, Toronto
460,000 sq. ft. | 521 units | Completed
Credit: Shiplake&Collecdev
77 Dunfield Avenue, Toronto
180,000 sq. ft. | 117 units | Completed
Credit: Shiplake&Collecdev
30 Light Drive, Cambridge
118,000 sq. ft. | 136 units | Completed